As fashion month kicked off officially in New York, London is now buzzing with its own shows. The dynamics have shifted, yet attendees remain committed to showcasing their top fashion choices. The fashion enthusiasts, hopping from one event to the next, never miss an opportunity to flaunt their ensemble. 
Bold hairstyles seem to be elevating many attendees' outfits. Vibrant red hair has become quite a sight in London, setting a distinct trend. Conversely, the gentle hues of strawberry blonde are equally captivating and prevalent on London's streets. The appearance of romantic hair adornments, such as ribbons and bows, indicates that the balletcore fashion trend is resonating not just in the US but throughout Europe.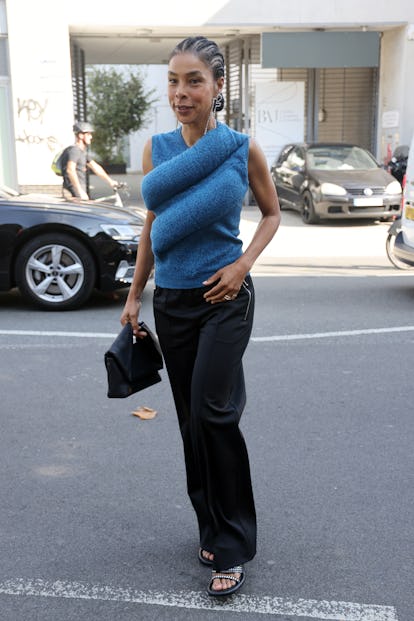 Anderson began the season by intriguing guests with a unique show invitation: a tinted clay block for them to fiddle with. This moist substance then found its way to the runway, being crafted into tailored tees and draped denim shorts. Thick drawstrings adorned the hooded biker jackets, offering a cocooned feel. Feather-laden dresses danced in the indoor breeze, complementing the padded coats. Dresses adorned with shimmering beads appeared as if suspended in a moment, and the ultra-relaxed vibe of bomber jackets transitioned to the bottom wear, evolving into exaggerated pants.
Coinciding with London Fashion Week from September 15th to 19th, Bond Street station has embraced the fashion mood. It's temporarily rebranded as Burberry Street. From in-station circular motifs to map indications and the external display, everything reflects this short-term change, resonating with the city's runway fervor.
Set to begin at 8:30 PM GMT on September 18, Burberry's SS24 showcase.
London Fashion Week, as always, promises style cues beyond just the runway showcases. The fashion-forward crowd outside the venues never disappoints. From refined tailored ensembles suitable for both work and leisure, to adventurous ventures into transparent materials echoing the ongoing trend of innerwear as outerwear, or even embracing the season's fervor for metallics that could rival the Tin Man himself — it's an opportunity to take a crash course in fall fashion.
Vogue marked its second Vogue World celebration in London last evening. Unlike the previous year, where the 130th-anniversary revelry included a live runway on New York City's West 13th Street, this year shifted the spotlight to London's renowned Theatre Royal Drury Lane, fusing British fashion and theater.
The essence of a West End premiere served as the backdrop. Anna Wintour and Edward Enninful inaugurated London Fashion Week, collaborating with acclaimed director Stephen Daldry, the mind behind the night's layout. The audience was treated to a diverse range of acts from entertainment icons, climaxing in a live runway spectacle showcasing standout pieces from the Fall 2023 lines. 
 Earnings from this magnificent event are set to benefit several prominent performing arts groups in London, such as the National Theatre, the Royal Ballet, Southbank Sinfonia, Rambert, and the Royal Opera House.Matching the high-profile attendance was a noteworthy red carpet display.